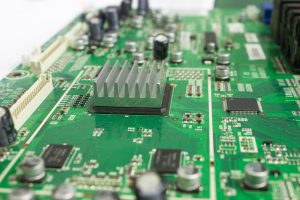 Ensuring your industrial applications are functioning as they should means having an understanding of the technologies that help them run. Indeed, custom heat exchangers assist by preventing your machines from overheating, but is that enough in an age driven by demand and competition? In today's blog, the team at Noren Thermal Solutions in Taylor, TX explores the science behind one of our primary heat exchanger models – the heat sink – and explain how eco-friendly methods help ensure optimal function.
Rapid Dissipation
When it comes to preventing overheating, the main thermal management concepts that our team utilizes involve spreading, movement, and dissipation. While spreading and movement play a major role in effective application cooling, the primary technology behind our custom heat sinks involves thermal dissipation.
Dissipation occurs when the thermal energy that is produced as a result of consistent function is dispersed into another medium, such as water or the surrounding air. With respect to our products, our heat sink exchangers absorb thermal energy at its source and spreads it through the base of the product and through the perpendicular fins into the surrounding air.
While regulating internal application temperatures is one thing, doing so in a quick and efficient manner is something completely different. To address this dilemma, our team works consistently to innovate and test new ideas, materials, technologies, and more so that we can provide nothing short of the best when it comes to your thermal management capabilities. Reach out to speak to a representative from our team today to learn more about this process.
Material Matters
In order to help you achieve the most use out of your equipment as possible, our team has spent years innovating and testing ideas and concepts along the way. One such important find was that utilizing copper as opposed to aluminum when creating our custom heat sinks makes for a much higher rate of thermal transfer.
Indeed, the ability to cool applications in a rapid manner is further explored when utilizing copper during the creation process, as copper contains a rate of thermal transfer roughly double that of traditional aluminum models. What's more? This allows your team to stay ahead of the curve when it comes to meeting demand. To learn more about this process, reach out to our team today.
Simple Yet Effective
Sometimes the simpler of solutions is the more ideal answer, and the same can be said for your thermal management capabilities. You do not always need the newest or most complex design to obtain optimal function, and our team has been innovating for over 40 years to communicate this purpose.
Learn More Today
Contact Noren Thermal Solutions in Taylor, TX by calling 512-595-5700 to speak to a representative from our team and get started on your ideal heat exchanger today.