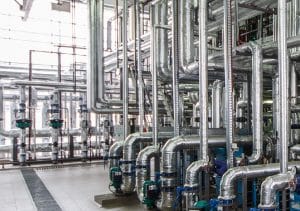 Electrical thermal management has been an essential function in most industries for several decades. In the manufacturing realm, for instance, thermal management has become increasingly more important as companies invest in more advanced manufacturing technologies. The ability to implement faster and more powerful technological solutions while also helping companies control and lower their operational costs has proven a valuable advantage to modern manufacturing companies. It's also helped streamline the processes of electrical cooling for companies in nearly every other industry, making it faster and more efficient for companies to maintain high-performance cooling for their technological applications.
Technology and electrical cooling in manufacturing
Manufacturing processes have advanced substantially over the last several decades thanks largely to the advent of technology. As companies have increasingly implemented more advanced solutions, including automated machinery and more, the need for more efficient and cost-effective thermal management has also grown. With the help of more modern cooling solutions that don't require as much energy or maintenance to sustain, companies have been able to significantly enhance their efficiencies and the consistency of their manufacturing processes. For example, custom thermal solutions, which often utilize natural heat transfer capabilities to prevent overheating, can continuously transfer large amounts of waste heat with minimal energy to keep large-scale manufacturing equipment properly cooled.
Streamlining the cooling of advanced technologies
In manufacturing, technology has played increasingly more important roles throughout the last several decades, and the same is true in most other industries, as well. With the ultimate goal of making electrical cooling processes more efficient, custom thermal solutions have also been an important part of that advancement. In many applications, the advantage of custom thermal solutions stem from utilizing methods that don't require as much energy or maintenance, and can keep operations more eco-friendly. This is important in more than just manufacturing, as companies in every industry benefit from reducing the costs and boosting the efficiency of their technological applications.
Custom thermal management in other industries
Advancements in technology and electrical thermal management are often significant in the manufacturing field. The advantages that manufacturing companies enjoy from custom thermal management have paved the way for companies in other industries to streamline their operations, as well. In many fields, custom thermal solutions have also helped enhance other processes that involve the management of heat. For example, customized solutions can make it more efficient to maintain wastewater treatment capabilities by supplementing the heat required for the process.
For more information about custom thermal solutions for manufacturing and other industries, call Noren Custom Thermal Solutions in Taylor, TX, at 866-936-6736.