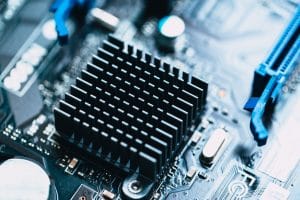 It is no surprise that large industries producing products, goods, or other services require strategic planning and management, especially when considering how to get from point A to point B. Every aspect is an important one to consider, including productivity, efficiency, and everything in-between. Utilizing equipment and large machines that can accomplish a task in a timely manner is helpful for accomplishing these goals, however, when those machines break down, it can seem daunting to have them fixed. By implementing custom thermal solutions such as heat sinks to advance cooling and heat disbursement, you will be able to keep up production. At Noren Thermal Solutions in Taylor, TX, we create custom solutions to benefit your business, and we want to let you know how you can utilize custom heat sinks.
How A Heat Sink Works
A heat sink is a passive temperature exchanger that transfers the heat generated from an electrical device to a fluid medium where it is dissipated. The purpose of this is to regulate a device's temperature and prevent it from overheating and breaking down. As technology advances, there has been a trend in increasing power densities per square inch while space allotted for heat sinks has been decreasing, making the process difficult to address. Fortunately, copper finned heat sinks offer a thermal transfer rate of almost double that of extruded aluminum heat sinks, making it an innovative and popular option to help increase your efficiency and productivity. Copper allows heat to spread quickly throughout the base, into the copper fins, and out into the surrounding air, regulating your machine's temperature at a steady rate.
Implementing a More Productive Process
Since it is true that there are a variety of devices and models available to assist you in progressing your business's goals, it only makes sense that your thermal solutions afford the capability to be customized and built to your specific needs. Noren Thermal Solutions offers our customers total freedom in the design and manufacturing process, as we understand that custom solutions are simply not meant to be one-size-fits-all. By utilizing a custom bonded heat sink, you can increase heat dissipation by two to three times, adding 200% to 300% to the cooling surface area.
Additionally, you can increase usage and management through an involved role in designing your custom appliance, selecting the fin height, thickness, and density that is most appropriate for your unique needs. To learn more, contact our team today.
Learn How a Custom Heat Sink Helps You
One-size-fits-all may work for some circumstances, however very few electronics are the same. Contact Noren Thermal Solutions in Taylor, TX by calling 512-595-5700 to learn more about how customized heat sinks can be used to increase your performance and production.