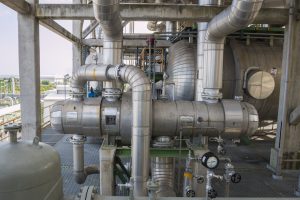 It goes without saying that one-size-fits-all configurations are a thing of the past. As we venture into an age of highly-specified tasks and job roles, the machinery and equipment used to help us do so could also use an upgrade. Indeed, average or traditional methods of thermal management simply do not cut it anymore, as the need for protection from overheating and increased yields has become one that needs to be met. In today's blog, the team at Noren Thermal Solutions in Taylor, TX would like to take a moment to dive into the function of a heat exchanger and describe how a custom thermal solution will better benefit your business.
Prevention of Overheating
Ever since the industrial revolution took off and the use of machinery has sky-rocketed, the need to protect our devices from overheating has been present. Traditional methods would have business owners setting up bulky fan and filter units that often got in the way of production more than it helped keep it moving.
As time went on, a movement toward mass production ensued. This led to the desire to make everything a one-size-fits-all product so that more and more machines could benefit without the need for an expensive product. The problem arose, however, that the needs of every industry were not all the same, and this neither could their thermal management solutions be. Thus, the individualized, custom solution age was born.
Meeting Unique Parameters
To truly provide a management solution that can benefit your team, a thorough understanding of your needs is in order. A custom heat exchanger can be created to meet your unique parameters following your industry and location, including the space, size, angle, and more allotted. What's more, we utilize a number of simple yet effective technologies and methods to help ensure that your rate of thermal transfer exceeds your needs. For more information about this step, speak to a member of our team.
Optimizing Your Output
As business becomes more and more competitive, custom temperature regulation becomes a must. Heat exchangers can help to move, spread, or dissipate waste energy at optimal rates through high levels of conductivity. In order to properly optimize your output and yield, it takes a thorough understanding of the environment and industry itself. To best assess this, our team takes the time to really get to know you and your needs. We then work with you to generate a solution in a process known as collaborative engineering, so that ideally, we can create exactly what you need. For more information about this process, reach out to our team today.
Learn More Today
Contact Noren Thermal Solutions in Taylor, TX by calling 512-595-5700 to learn how a custom heat exchanger can significantly aid your yield.