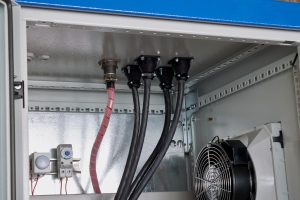 Effective heat management can best be accomplished through a number of methods. In fact, each application in each industry has a unique set of needs and parameters to be met, and yours is no exception. Indeed, some equipment needs an entirely new and updated method for effective cooling, meanwhile, others only require a small accessory to boost productivity. In today's blog, the team at Noren Thermal Solutions in Taylor, TX would like to discuss the ways that filter fan enclosure cooling can benefit your company.
Understanding the Need for Enclosure Cooling
When technological applications and electronics function, they often do so through electric or mechanical means. That being said, the energy that is being used to accomplish a task becomes thermal, as heat waste is the production of action. If this heat were to remain, it would cause the internal temperature of a given application to rise to dangerous levels. If this occurs, you could face dangerous circumstances, including overheating, breakdown, and even total loss of a machine. To avoid this, there is a need for thermal management components to help maintain a stable temperature.
Because every application is not created the same and their environments vary in degree, the need for custom thermal solutions is at an all-time high. These can range anywhere from heat sinks, cold plates, pipes, and more, as well as utilize a number of methods such as passive/active convection, phase-change technology, and thermoelectric means. What's more, some devices are designed with temperature regulation in mind, only requiring an accessory to achieve cooler environments. For more information about this process, contact a member of our team today.
Using Filters and Fans
One of the most important factors to consider when maintaining adequate filter fan cooling is ensuring that an accessory can prevent dust or other threats from entering an application's internal workings. Dust can act as an accelerant when applications overheat, causing significant damage. In other cases, water can cause the breakdown of sensitive electronics. To ensure effective temperature management, our team offers a variety of custom filter kits and fans that not only meet the standards set forth by NEMA but exceed these standards by regulating efficient thermal management and filter fan enclosure cooling. For more information about this process, reach out to our team.
Streamlining your Application's Productivity
As more and more companies are embracing the needs of their machines, the demand for solutions that also contribute to higher yield and productivity has also increased. To meet these parameters, our team will work directly with you to ensure that we have a thorough understanding of your thermal management needs, as well as how we can help.
Learn More Today
For more information about the ways custom accessories benefit your machines, contact Noren Thermal Solutions in Taylor, TX by calling 512-595-5700 today.