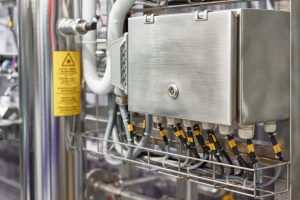 When it comes to ensuring your business is running productively, optimized technological applications are the solution. Indeed, attempting to keep up with the demand of today's markets without the assistance of highly specialized equipment would be virtually impossible. That being said, making sure that your equipment is up-to-date and has proper thermal management is a necessity. In today's blog, the team at Noren Thermal Solutions in Taylor, TX will take a look at the base level of protection an enclosure should maintain, and how all of our products comply with NEMA 12 standards.
Potential Threats to Function
Whether you are drilling for oil in harsh conditions, or simply ensuring proper assembly line function, your machines are important. To generate the energy to perform a task, an application must expend effort to do so. This can lead to an increase in internal temperatures, such as when a human overheats from consistent physical activity without a break.
In a similar manner, machines face threats to their structure if proper precautions are not taken. For instance, failing to remove excess waste heat can lead to complications such as ceasing function, breaking down, and serious electrical damage. What's more, falling dirt, dust, or water vapor can all result in significant outages and breakdown, potentially costing you your equipment. In order to best avoid any of these from occurring, temperature regulation must be considered.
Protection from Dirt and Falling Debris
While it may not seem like that threatening of a concern, falling dust and dirt can be dangerous. In fact, dust accumulation can result in severe electrical fires, harming both your productivity and even your employees. This debris accumulates naturally just like dust would on a shelf. Without proper precautions to keep these items out, there would be no way to guarantee safety.
To address this concern, the National Electrical Manufacturers Association (NEMA) set forth standards for various grades of electrical enclosures in order to establish a baseline of safety and function. While applications differ in design and function, all enclosures contain the same base needs, and that involves proper thermal management. For more information about this process, reach out to our team today.
Air-Tight Enclosure Design
When it comes to most devices, a NEMA 12 enclosure type is a general-purpose use solution. It is intended for applications used indoors and provides basic protection against dust, dirt, and non-corrosive liquids. Indeed, accessories such as filters can truly optimize your NEMA 12 enclosure cooling, and our team is ready to help you find the thermal management solution to best help you.
Learn More Today
Contact Noren Thermal Solutions in Taylor, TX by calling 512-595-5700 to learn more about our product safety measures, or speak to a member of our team today.