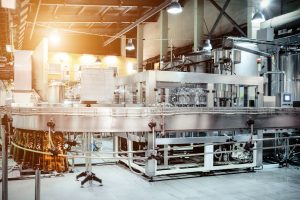 Whether you are looking to cool overheating electrical enclosures or provide a consistent means for displacing waste heat, one thing remains true: your industrial applications cannot function properly without thermal management solutions. Indeed, keeping the production line up and running requires an understanding of an application's specific needs, and that is where our team comes in to help. In today's blog, the team at Noren Thermal Solutions in Taylor, TX explores the needs of the Food & Beverage industry and discuss how air to air heat exchangers can assist.
Keeping the Line Running
It goes without saying that efficiency is a major factor to consider when working in the Food & Beverage industry. After all, part of the success for many companies involves quick production and a consistent process. In other words, time really is money, especially for competitive companies that package similar items.
Because consistency and efficiency play such a huge role in how successful a company becomes, there is a major emphasis on keeping the line running. Indeed, in many situations, having production cease due to technological overheating and system failure can end up costing companies significantly in terms of labor and revenue. What's more? That may just be what bumps a top competitor down a few pegs.
In order to ensure that this does not happen, high-quality thermal management solutions are a must. Taking your specific needs and parameters into mind, we can create a product that can displace waste heat thoroughly and effectively so that you do not have to worry about breakdown and other complications. For more information about this process, reach out to our team today.
Avoiding Contamination
Another important factor to keep in mind when seeking a custom heat exchanger for your applications is what components make up the solution. The reason for this, is because some competitors tout effective thermal management through the use of potentially dangerous or harmful chemicals, and it is important to recognize the sensitive nature of the industry.
Indeed, the last thing you need to worry about is cross-contamination that causes consumers to become ill. For this reason and to prioritize the environment, all of our custom solutions are created in an eco-friendly manner. Reach out to a representative from our team to learn more.
Benefits of Accessories
When looking for an ideal solution to a complex problem, the certifications and standards speak for themselves. Our air-to-air heat exchanger works well with a custom fan to not only meet the standards for NEMA 4 enclosure types but can help provide consistency and dependability that you need.
Speak with Our Team
For more information about our air-to-air heat exchangers or to speak to a representative from our team, contact Noren Thermal Solutions in Taylor, TX by calling 512-595-5700 to get started.