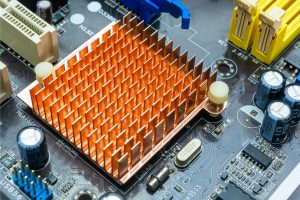 The ability to create prototypes of a design in a rapid manner not only helps our team identify any points of weakness, but take a conceptualization to a whole new level through physical and visual means. Indeed, collaborative engineering and rapid prototyping are part of what sets our team apart from the rest, with the other components consisting of environmentally friendly approaches and natural methods. In today's blog, the team at Noren Thermal Solutions in Taylor, TX explains the process of heat sink enclosure cooling, as well as how thermal dissipation provides cost-effective results.
Utilizing Basic Elements
It goes without saying that technological advancements in today's day and age makes it possible to achieve thermal management within applications in a variety of ways. What's more? The methods behind the processes offer even more variation, and at times, it can be difficult to discern which route will benefit your business the most.
Indeed, what solutions you choose will largely depend on your unique parameters, including purpose, physical environment, types of machines used, and more. Needless to say, effective thermal management takes these factors into consideration, as well as implements eco-friendly methods so as to preserve the natural environment. Further, you do not have to worry about sacrificing quality and productivity in lieu of these methods, and our team is ready to help.
Each of Noren's products places an equal emphasis on environmental sustainability and optimal application function. This means that you no longer have to choose between the two, as our simple-to-install solutions will have you covered. To learn more about this process and how we can help, give our team a call today.
What is Heat Sink Enclosure Cooling?
When gaining an understanding of the way sustainable practices and optimal thermal management work hand in hand, a popular option to consider is a heat sink heat exchanger. This product is comprised of a solid base with multiple copper fins jutting out from it through which waste heat is transferred. What's more? Heat sink enclosure cooling occurs as the base absorbs the waste energy and spreads it through the fins out into the surrounding air in a process known as dissipation. For more information about this process and how our team can help, contact a Noren representative today.
Cost-Effective Solutions
While a variety of competitors out there boast about increased thermal management and function, not many can do so while also benefitting the environment. This is where we differ, however, as our simple solutions not only help you get the most from your applications in a sustainable manner but save you in terms of cost through the process.
Speak with Our Team
To learn more about heat sink enclosure cooling or to speak to a representative from our team, contact Noren Thermal Solutions in Taylor, TX by calling 512-595-5700 today.