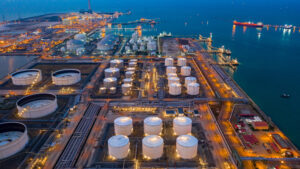 By and large, staying ahead of the curve is a top priority for a variety of industries. After all, in a world where competition is king and higher-quality products can be created for a lower cost, the business that comes out on top will be the one that can effectively and consistently fulfill this need. Still, however, it is important to note the various factors that can hinder this process, as well as what your thermal solution options may include. In today's blog, the team at Noren Thermal Solutions in Taylor, TX takes a look at the unique parameters surrounding the oil and gas field, and how custom hazloc heat exchangers can help.
How Conditions Complicate Function
Just as you may be affected by drastic changes in weather and temperature, your industrial applications are as well. In specific industries, such as the Oil & Gas field in particular, harsh or difficult conditions must be considered and taken into account when attempting to optimize the process. If this is not the case, you will quickly run into a variety of problems and complications.
Indeed, when searching for an effective thermal management solution for your business, it is important to recognize the impact your unique parameters have on the solution's overall effectiveness. This includes physical location, the purpose of operation, space allotted for equipment, and other obstacles or constraints.
When working with oil and gas specifically, we see a need for consistent function in tough conditions. This includes being able to function in extreme temperatures, as well as operate without fear of breakdown or serious injury. To learn more about this process and how our team can help, give us a call today.
Streamlining Efficiency and Safety
It is one thing to utilize solutions that prevent your equipment from overheating, but it is a completely different scenario when you can do so in a manner that benefits your overall operation. Indeed, at Noren, our top priority is quality products that promote safety and efficiency, and oil and gas equipment is not an exception. We will work closely with your team to determine your unique parameters and/or limitations to function so that we can help set you up with a thermal solution that optimizes your operation. Contact our team to learn more.
ATEX and IECEx Enclosure Types
Working in a hazardous location such as oil and gas means utilizing specialty equipment with specific needs. As such, our team currently manufactures the only heat exchangers that are UL certified for ATEX and IECEx class enclosures. This is what allows your equipment to operate under extreme conditions.
Learn More Today
For more information about how to get started with your custom thermal solution in the Oil & Gas field, contact Noren Thermal Solutions in Taylor, TX by calling 512-595-5700 and speak to a representative from our team today.