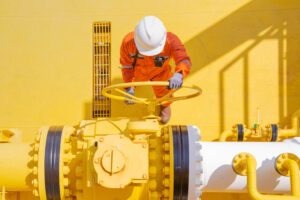 In our previous blog, we discussed the many benefits of thermal pin heat exchangers in the plastic mold cooling industry, as well as how the role of customization is an important one to consider. Indeed, custom thermal solutions offer an incentive that one-size-fits-all solutions cannot, and that is the ability to address your specific needs so as to optimize your setup overall. In today's blog, the team at Noren Thermal Solutions in Taylor, TX discusses how our custom thermal solutions can be tailored to industry-specific needs, including dependability in hazardous locations such as Oil & Gas work.
Understanding Hazardous Locations
It goes without saying that technological advancement has made it possible to excel in virtually every industry. After all, we have seen exponential growth in terms of production, yields, decreased cycle times, and a host of other factors as a result of technology, and without this growth, we certainly would not be where we are at today in terms of the market.
Although technology can be used in a variety of fields, it is important to note that not every technological application has the same needs. This influences the level of effectiveness that a custom thermal solution can provide, as many parameters must be considered if you are aiming to optimize your capabilities.
If we look at the Oil & Gas industry, for example, a major factor that stands out that may not be present in a host of other fields is that conditions are particularly tough to thrive in. These hazardous locations require extra work in terms of guaranteeing consistency and dependability, but fortunately, that is where our team has you covered. To learn more about this process, reach out to a representative from our team today.
Streamlining Safety and Efficiency
At Noren, one of our biggest priorities is ensuring safety when operating industrial applications. This is true for hazardous location enclosure cooling, and we take care to create custom heat exchangers that address your needs precisely.
You see, effective thermal management can be complicated by extremes in conditions and temperatures, making applications more prone to breakdown, overheating, and even permanent damage. Our custom hazardous location solutions take these needs into consideration and utilize advanced methods to ensure consistency, dependability, and safety above all else.
ATEX and IECEx Class Enclosures
In addition to restoring dependability in a demanding field of work, our custom heat exchangers are designed and UL certified for IECEx and ATEX enclosure types. This means that our products are certified as meeting or exceeding the standards for working in extreme conditions without faltering.
Learn More Today
Contact the team at Noren Thermal Solutions in Taylor, TX by calling 512-595-5700 to learn more about our hazardous location thermal solutions and how we can get started on yours today.