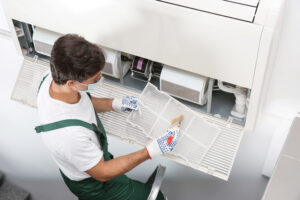 Learning which methods streamline thermal management capabilities is largely a process involving trial and error. While calculations are made to help point us in a direction in terms of what technologies to try, sometimes ideas are better in theory than in practice. As such, much of our variety is owed to continued innovation and rapidly testing new ideas, a process that you can be as involved in as you desire. In today's blog, the team at Noren Thermal Solutions in Taylor, TX discusses how innovation plays a major role in the overall effectiveness of a heat exchanger solution, and how filter fan enclosure cooling can optimize your capabilities.
Energy-Efficient Products
It is one thing to utilize a top-of-the-line thermal management solution such as a custom heat exchanger to provide better rates of internal temperature management in an application, but it is something completely different to be able to do so efficiently. Indeed, efficiency plays a major role in your thermal capabilities, as it allows for sot-effective solutions.
To explain, we will take a look at our eco-flow dual filter fan systems. This innovative solution achieves high-efficiency ambient cooling for various electrical enclosure types. What's more? It can help you get the most out of your industrial applications, as it does not utilize significant energy to prevent overheating within the enclosure.
Although there are various heat exchangers on the market that can tout the ability to provide rapid cooling in an application, not very many offer the ability for applications to perform at capacity without accruing significant energy bills or efficiency. To learn more about this process, give our team a call today.
Utilizing Ambient Cooling Methods
One of the key features behind filter fan enclosure cooling is the use of ambient outside air. Indeed, ambient cooling is a method of thermal transfer in which the outside ambient air is filtered into an electrical enclosure to help cool sensitive wires and electronics, and the excess waste heat is forced out of the panel.
Another major benefit of ambient cooling is that it can be applied to a variety of applications in a number of different settings. Ask our team about your filter fan ambient cooling options by giving us a call today.
Simple Maintenance
In addition to higher efficiency and low cost, our eco-flow dual filter fan requires minimal maintenance and offers simple installation. As a matter of fact, you can even install one yourself! We encourage doing so but make sure to check out our simple installation guides on our website first.
Speak with a Member of Our Team
Contact Noren Thermal Solutions in Taylor, TX by calling 512-595-5700 to schedule your consultation with our team and learn about the various benefits that accompany filter fan enclosure cooling.