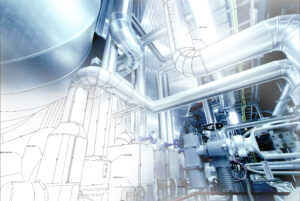 The advent of technological innovation has driven our world in so many ways, and each direction is a forward leap. Indeed, the ability for technological applications to thrive in any number of industries is incredible, and heat exchanger thermal solutions are a must. Even in particularly tough conditions, transferring waste heat away from a technological application is important, and more factors are taken into consideration to ensure proper function in these environments. In today's blog, the team at Noren Thermal Solutions in Taylor, TX identifies the major functions of a heat pipe assembly, as well as how your parameters are utilized to create custom solutions to address your needs precisely.
Heat Pipe Enclosure Cooling
It goes without saying that there are various methods out there that can be utilized to promote waste heat transfer for a given application. Though there are different methods that can be utilized, not all of them can help you get the most out of your equipment's capabilities. As a matter of fact, many manufacturers tout the ability to address your application's needs with a one-size-fits-all solution, but no two sets of parameters are the same. In other words, you cannot possibly utilize your equipment to its intended capacity without the assistance of customized care.
This is where our team differs, however, in that we place an equal emphasis on optimal function and sustainable practices. We recognize that in order for a device to function at capacity, each parameter surrounding it must be accounted for. This includes your physical environment, space allotted for equipment, presence of dust, dirt, and other debris, and more.
Among the many thermal products we design, create, and manufacture, our custom heat pip assemblies can be used in a wide variety. For more information, give us a call.
High Thermal Conductivity
Heat pipes are the most common phase-change products we create. Traditional heat pipes use aluminum to move waste energy away from the application, however, our team utilizes copper and other materials as well for its quality function and high rate of thermal conductivity.
Another benefit of heat pipe enclosure cooling is that it can be used in a variety of different settings. You see, each installation is designed with specific parameters in mind, and we can achieve a variety of bends, angles, diameters, and more to help you get the most from your machines.
Long Life with No Maintenance
Unlike standard heat pipes, you do not have to worry about significant maintenance, installation, and replacement. This is because we place a heavy emphasis on quality and function, and design our products with straightforward concepts and sustainable results.
Give Us a Call
Contact Noren Thermal Solutions in Taylor, TX by calling 512-595-5700 to speak to a representative from our team and learn more about the role is customization when it comes to meeting your thermal needs.