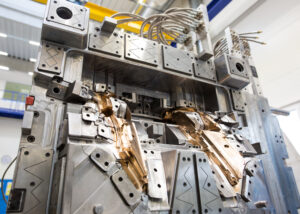 Creating custom designs, utilizing rapid prototyping capabilities, and ultimately helping you get the most out of your industrial applications are the bread and butter of our work. Indeed, we recognize that machines and equipment can vary from industry to industry, and there are even more unique models or devices within a field of specialization as well. When we take a look at plastic mold cooling and its various capabilities, it is important to make sure you are able to achieve rapid cooling and heating throughout the form. In today's blog, your Noren Thermal Solutions in Taylor, TX explains how variations in mold thickness can cause discrepancies in even cooling, and how a thermal pin heat exchanger provides efficient results.
What to Know About Thermal Pins
Unlike industries that focus on specific areas of expertise, plastic mold cooling can be used in a variety of different environments. For example, food and beverage packaging plants require bottles and containers to package their products. While some may choose to outsource these products, others may find it more efficient to simply produce these products in-house.
Just as any other industrial application may overheat due to heightened internal temperatures, a mold may have difficulties providing necessary cooling to all areas. Not only does this lead to issues in machine function, but it can lead to major noticeable discrepancies in a finished product.
In order to cool all areas of a form efficiently and prevent noticeable product blemishes, you may consider the help of a custom thermal pin. Thermal pins are considered high-temperature heat pipes that provide consistent cooling to all areas of the frame regardless of mold thickness. Give our team a call to learn more today.
Addressing Your Rotational and Injection Needs
When it comes to devices that utilize small cores, thermal pins promote ideal plastic thermal management. This is accomplished by accessing areas previously inaccessible through remote water channels in a process known as plastic injection mold cooling.
Another way thermal pin solutions can benefit your operation is through plastic rotational mold cooling. This involves heat transfer from rotational and rubber molds in order to heat the material more quickly and evenly. To learn more about this process and ways our heat exchangers can optimize your capabilities, give our team a call today.
Optimizing Plastic Thermal Management
Whether you are aiming to create large-scale tubs or bins, small bottles, or virtually any other plastic product in-between, your operation can benefit from a heat exchanger that not only takes your parameters into mind but offers at-capacity function without harming your working environment.
Get Started Today
To learn more about the ways a thermal pin heat exchanger may benefit you, contact Noren Thermal Solutions in Taylor, TX by calling 512-595-5700 and speak with a representative from our team today.