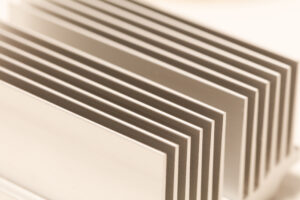 Understanding that your thermal capabilities are largely influenced by your working environment and needs is important when it comes to upgrading those capabilities. Unfortunately, knowing where to start is not as straightforward. Indeed, specific industries often contain their own unique set of parameters, and a host of thermal solutions may not be able to offer the most for your situation. In today's blog, the team at Noren Thermal Solutions in Taylor, TX explores the various functions of a heat sink heat exchanger, and how you can partake in sustainable cooling practices through thermal dissipation.
Starting with Thermal Dissipation
Whether you are aware of it or not, proper thermal management involves having an understanding of your thermal budget. What this means, essentially, is that you need to be conscious of and in touch with your individual and environmental factors that can influence application function. You should also maintain a base level of knowledge regarding your thermal management methods, as each environment is going to contribute to a unique set of needs.
Indeed, it is best to have an idea of what you need, but knowing where to start is a completely different process. Fortunately, this is where our team comes in to help. You see, we place an equal emphasis on optimized capabilities and sustainable, eco-friendly methods, and one of our most popular and versatile options involves heat sink thermal management.
You see, heat sink solutions utilize a process of heat transfer known as dissipation. This process occurs when waste energy is dispersed into another medium, such as air or water. It may also occur through radiation. To learn more about this process and what it means for your industrial applications, give our team a call today.
Protecting Sensitive Electronics
Whether you are operating large applications or simply need to protect sensitive electronics such as within a CPU system, a heat sink may be able to help. You see, heat sink enclosure cooling allows you to obtain the ultimate in forced air cooling, as the thermal transfer rate of our products is nearly double that of traditional models. What's more? You do not have to worry about your sensitive electronics any longer, because we get to know you and your unique needs thoroughly so as to provide solutions ideal for your setup. Give our team a call to learn more today.
Built to Your Needs
One of the greatest benefits of our thermal solutions is that they can be customized and built precisely for your needs. For example, hazardous location enclosure cooling may require additional attention to harsh conditions, and we will ensure nothing short of ideal for your environment and parameters.
Learn More Today
Contact Noren Thermal Solutions in Taylor, TX by calling 512-595-5700 to speak to a representative from our team and learn how you can get started on your custom heat sink thermal solution.