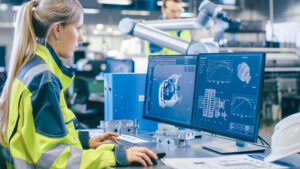 Prototyping is an important step in production processes. It provides a manufacturer the opportunity to craft and then determine the compatibility of an item in a real-world setting before spending more money, time, and effort on building a fully-functioning end product. This stage is especially essential when you require custom thermal management solutions. When you need highly-specialized cooling products, you must be certain they function precisely as intended; this is especially true if they are custom-crafted for your existing machinery. Under no circumstances should you have to pause your production, which is why rapid prototyping is so vital. In today's blog, the team at Noren Thermal Solutions in Taylor, TX talks about the numerous benefits of rapid prototyping and how we can deliver our specialized custom products with a quick turnaround time.
You Should Expect A Quick Turnaround
Prior to crafting you a custom thermal solution, it is essential that we build a prototype. This allows us to determine if a potential product satisfies your numerous, unique cooling needs. Before committing to the end result — and sinking in more effort and money — it is important that we know it works as intended — and that you are confident in the results. With advanced 3D printing technology, we can create a prototype in a single day. 
Once we accomplish this, we are able to work out any potential kinks and incompatibilities and be confident that your cooling solution works with your existing machinery and electronics. Overall, we can completely monitor and oversee what we craft for you from beginning to end. Our prototyping grants us the ability to provide the perfect product to meet your unique heat management needs.
Why Customization Is So Important
No two thermal management solutions are alike; your cooling needs are unique entirely to you, and your heat management products need to reflect this. Not only is your existing machinery built to create a specific product, but the space it is in also has its own cooling needs. This is exactly why we create custom components. These will fit your current parts and also provide the necessary cooling capabilities for your environment and workspace. It is vital that you are confident that your electronics won't overheat, causing major manufacturing delays and frustrations; our custom thermal management solutions prevent this from occurring. Moreover, because they are custom-designed to accommodate your facilities, our custom cooling solutions and products work more efficiently, which lowers your environmental footprint, providing you with savings on energy bills.
Contact Us To Learn More About Our Rapid Prototyping
Your thermal management needs are unique to your company, and your cooling devices need to reflect this. You can contact Noren Thermal Solutions in Taylor, TX by calling 512-595-5700 to learn more about the role of customization and the benefits of in-house manufacturing. We look forward to working with you and meeting your cooling needs.