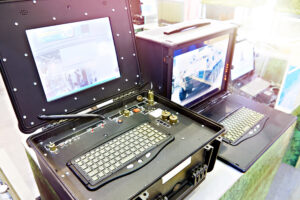 It goes without saying that technological advancement has paved the way for greater capabilities in a host of different industries. From keeping the line running in food and beverage assemblies to maintaining best practices in pharmaceutical packaging, virtually every field out there could benefit from advances in technology. When extremes in conditions and other environmental factors come into play, however, it is important to have solutions in place to ensure consistent safety and function. In today's blog, the team at Noren Thermal Solutions in Taylor, TX discusses the need for extra protection in devices such as military equipment and how our team can help.
Industries Requiring More
Whether you are aware of it or not, not all industries utilize the same industrial applications. Though functions may appear to be similar, in all actuality, there is much to be considered that can negatively influence your device's capabilities. For example, overheating is one of the biggest threats to application function. When you are working in an environment that often has extremes in temperatures, there is a greater likelihood for overheating to occur.
In industries such as the military, relocating to different areas around the world is common. Not only can different regions exhibit significantly different conditions, but they can also include less-technologically developed areas. In other words, ensuring military equipment is consistently and safely running is essential.
Our team manufactures a line of military-grade heat exchangers which we call ruggedized electronics. The ultimate goal of ruggedized electronics is to offer optimal results under the most demanding of conditions. To learn more about this process and how our team can help, give us a call today.
Ensuring Consistent Function
In addition to offering optimal results in military equipment, ruggedized electronics can be applied to various important pieces of equipment. For instance, our team aims to ensure our brothers and sisters in uniform are covered in every capacity we can. This includes laptop computers, power stations, vehicle equipment and more.
We recognize more than anyone how important it is to ensure ideal function in your technological devices, and being able to do so in particularly demanding situations is our goal. Contact our team to learn more about the offerings of ruggedized electronics and how we can help you.
Other Ways We Can Help
No two environments are going to contain the same parameters, and no two devices contain the same needs. It is important to seek customized solutions for your needs if you are aiming to make the most of your equipment, and one-size-fits-all solutions are simply not going to make the cut.
Get Started Today
To learn more about the science behind ruggedized electronics, contact Noren Thermal Solutions in Taylor, TX by calling 512-595-5700 to speak to a representative from our team and get started on your custom thermal solution today.