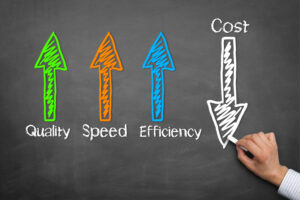 Having a hand in your thermal management solutions is essential for optimizing your capabilities. After all, you would not expect a one-size-fits-all solution to address your needs precisely, so why would a heat exchanger that does not consider your exact parameters be any different? Indeed, our team accompanies you every step of the process in order to make sure you receive nothing short of ideal, and our products are designed with you in mind. In today's blog, the team at Noren Thermal Solutions in Taylor, TX discusses the benefits of our Eco-Flow Dual Filter Fan and how it provides a cost-effective solution for your needs.
Moisture Resistant Fiber Filters
It is one thing to find a thermal solution that can prevent your technological applications from overheating, but it is something completely different to discover a custom heat exchanger that can be specifically tailored to your needs. Indeed, overheating is one of the biggest threats to application function, and while some heat exchangers can assist in minimizing your chances of overheating, most are not capable on their own of providing at-capacity use.
For over fifty years, our team has made it our mission to provide our clients and customers with thermal solutions that not only optimize their capabilities, but do so in an energy- and cost-effective manner. One such product that can be used in a host of different applications includes our Eco-Flow Dual Filter Fan.
You see, filter fan enclosure cooling helps keep your sensitive electronics protected by achieving high efficiency ambient cooling in enclosures of all sizes. Moreover, they are designed with moisture resistant fibers, meaning they can withstand the test of moisture without faltering. To learn more about this process, give our team a call today.
High Level of Filtration
In addition to achieving high efficiency ambient cooling, the materials used to create the heat exchanger offer a high level of filtration. Too often we hear frustrations from individuals regarding the lack of protection in most competitor heat exchangers, as they do not account for dust, dirt, or falling debris affecting their devices.
This is where we come in to help, however, as the moisture resistant fibers each dual filter fan contains is designed with a fine degree of filtration. In other words, you no longer have to worry about the effects of dirt or dust in slowing down your device's capabilities, as our team has you covered.
Preventing Contamination With An Adhesive Gasket
To complete the heat exchanger, we include an adhesive gasket to make a secure seal between your enclosure and your outside environment. This also helps prevent contamination and contributes to cost effective thermal management, allowing your device to function at capacity.
Speak With Our Team
To learn more about the many beneficial features of our Eco Flow Dual Filter Fan, contact Noren Thermal Solutions in Taylor, TX by calling 512-595-5700 to speak to a representative from our team and get started on your solution today.