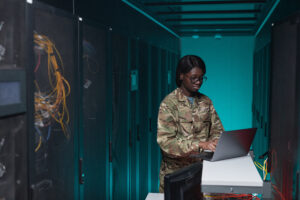 It goes without saying that you as a company depend heavily on your technological applications and their capabilities to keep your production line up and running. With the help of technological advancement and greater availability, there is something for everyone regardless of industry or field. Even for those working in particularly difficult conditions, having a dependable application is crucial, and this is where our team comes in to help. In today's blog, the team at Noren Thermal Solutions in Taylor, TX discusses the need for durability and dependability in electronics when working in the military and how our line of ruggedized electronics can help.
Solutions for Particularly Demanding Environments
You may be familiar with our line of HazLoc equipment, which is aimed at providing consistent cooling capabilities for industries that operate in hazardous locations. Indeed, workers and machinery in these fields are constantly exposed to conditions that can easily complicate the prevention of overheating, and having a solution in place to ensure this is no longer a problem is essential.
In a similar manner, our team manufactures a specific line of electronics for military personnel. Individuals in uniform are often deployed to or work in conditions that can vary drastically. There may be nothing around except for the base itself, posing complications to communication lines and other concerns.
To combat this concern, a ruggedized electronic may be exactly what you need. Not only do they offer the most in terms of thermal management capabilities, but they can provide optimal results in the most demanding of circumstances. To learn more about this process and how our team can help, give us a call today.
Our Line of Ruggedized Electronics
When it comes to ruggedized electronics for the military or even aerospace fields, our team has you covered. These solutions combine high-performance thermal management with the durability that these industries demand, and our team is more than happy to help you get started on yours.
Our line of ruggedized electronics cover everything from power stations to laptops, vehicle equipment and more. Additionally, we really get to know your needs and utilize the information we receive to help provide you nothing short of ideal solutions. Contact our team today to learn how you can get started.
We Will Work With You
As we mentioned previously, we recognize more than most the role of customization in the heat exchanger and electronic design process. No one-size-fits-all solution can provide optimal function, and we take care to factor in your needs, the physical environment's impact on your capabilities, and of course, your parameters and measurements to ensure your solution is a perfect fit.
Give Our Team a Call
To learn more about the need for durability and dependability in fields enduring tough conditions, contact Noren Thermal Solutions in Taylor, TX by calling 512-595-5700 and speak to a representative from our team today.