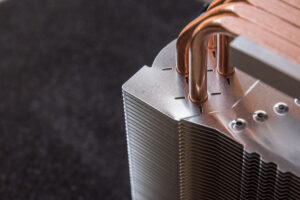 If you are still relying on older methods of cooling your equipment, you could be wasting your money on a system that no longer suits your needs. Traditional means such as compressed air and conditioning have a limited ability to protect your vital resources, so take the time to understand your options in thermal management. Our trusted team of professionals will guide you through the process so that you can know how an effective system can better suit your needs.
Noren Thermal Solutions has been assisting businesses to achieve a greater sense of control over their operations since 1968, so we bring decades worth of expertise in the field. One of the ways that we can help you to reach a higher level of efficiency in your production is through a passive heat exchanger that was first developed at the Los Alamos National Laboratory called a heat pipe. This device harnesses the shift between liquid and gas to safely transport thermal energy away from your sensitive resources to a place where this heat can be safely dispersed. Discover the advantages that efficient thermal management can help you and your company!
Heat Pipes Can Help You Stop Relying On Air Conditioning
One common mistake that people often make is an overreliance on air conditioning to protect their electrical enclosures and circuitry. While this might seem like an effective solution, you could be wasting money by relying on this method of cooling. Our heat pipes can help you to improve your operation, so stop your dependance on air conditioning!
How Our Heat Pipes Keep Your Equipment Safer
The concept behind heat pipe technology centers around the change in phase between a liquid and a gas. When your electronics heat a liquid (such as water), it will turn into a vapor. As this gas flows toward a location away from your equipment, it will start to cool, eventually turning back into liquid. This is one of the most efficient ways of thermal management that are available to you and your business!
For many business owners and operators, the discussion of thermal management is not why they started in their field, and so they need a bit of help in understanding their options. If this sounds like you, reach out to our team for information about all of your systems so that we can be a helping hand in improving your production. We are here for your guidance toward a more efficient way of doing things!
Speak To Noren About All Of Your Thermal Management Needs
If you are looking for a more efficient way to protect your equipment, talk to our team about the possibility of a custom heat pipe assembly. For these products and more, talk to Noren Thermal Solutions in Taylor, TX at (512)595-5700.