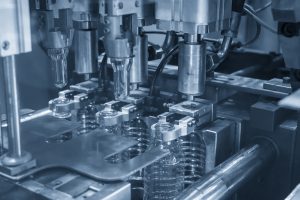 It may be hard to imagine a manufacturing plant that wanted to operate with less efficiency, and provide less protection for valuable equipment. However, when you fail to look for the most effective thermal management solutions, you can impose limits on what you can do. You also provide less support for the technology on which your operation depends. Noren Thermal Solutions in Taylor, TX has experience working with a wide array of operations on matters of heat distribution and management. For plastic molding operations, we can provide custom thermal pins that help draw away heat, which can lead to faster and more reliable outputs!
The Importance Of Effectively Managing Heat Buildup
Better mold cooling helps companies improve their cycle times while also benefiting the quality of their output. Plastic mold cooling is one of many matters regarding heat management that our team can address. While you can find general solutions to support your operation, these may not provide the best outcomes. For our clients, we can recommend customized solutions that serve their individual needs and concerns.
Custom Mold Cooling Solutions With Thermal Pins
We can provide custom thermal management to improve your mold cooling efforts. The implementation of thermal pins helps by drawing heat away from the products that you produce, which can help you work faster and take better care of what you create. Our experience makes us comfortable with an array of operations. When it comes to molding environments, we have experience with injection molding, rotational/rubber molding, blow molding, and extrusion molding.
Our In-House Manufacturing And Prototyping Help Us Find The Right Solutions
To deliver a custom solution that is truly ready for a client, we rely on both rapid prototyping and in-house manufacturing to do all appropriate tests. The right preparatory efforts help us work out plans that we can tailor to individual operations. Having the capacity to test prototypes and create items in-house makes this work faster, and also leads to more savings. Better testing also prevents complications during and after the installation of your chosen equipment. To make sure everything is truly right, we can even simulate the environmental conditions you work in.
Learn How Noren Thermal Solutions Can Deliver Better Mold Cooling!
For many different working environments, proper heat management will prove valuable. This can be particularly true for molding operations, where the right solutions are capable of both raising output levels and delivering better products. We can do more than just supply you with general thermal pins to help draw heat. We can collaborate with you to create custom products that are best-equipped to support your operation! If you are ready to find out more, contact Noren Thermal Solutions in Taylor, TX at 512-595-5700.