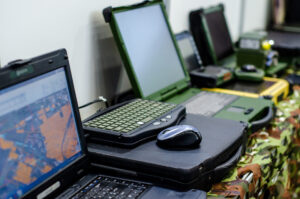 Providing necessary thermal management for your technological applications has been made easier with the advent of advanced technology and continued innovation. Indeed, a variety of methods exist to accommodate the needs of even the most specialized of industries but bear in mind that you can only get the most from your setup when your parameters are closely considered. In today's blog, the team at Noren Thermal Solutions in Taylor, TX discusses why military-grade electronics must be durable and reliable for a variety of situations and conditions, as well as what this means for you.
Dependability in the Toughest Terrain
It goes without saying that your environment heavily influences your technological capabilities. From overall function to chances of overheating and everything else in-between, there is not much that does not directly influence your equipment. As such, these and more must be considered when seeking a thermal management solution.
Because thermal energy is generated as a result of functioning electronics, it makes sense that overheating is a very real phenomenon. Indeed, without considering a method to remove this waste heat, you could face potential electrical fires, shutdown or breakdown, and permanent damage.
When working in extreme environments within the military, being able to communicate, locate individuals, and virtually everything else in-between is a must. As such, the team at Noren Thermal Solutions designs, creates, and manufactures a line of military-grade technology that is designed to withstand the toughest conditions. What's more? These heat exchangers and accessories can do so dependably and reliably so that you can perform your duties without fear of malfunction. To learn more about this process, reach out to a member of our team today.
What are Ruggedized Components?
The term "ruggedized electronics" refers to products in which durability is essential to thermal management. Ruggedized solutions offer optimal results in the most demanding of conditions, and they combine this with high performance to help you make the most of your equipment.
Indeed, from power charging stations to laptops, vehicle equipment, and virtually everything in-between, the team at Noren has our women and men in uniform covered. Contact a representative from our team to learn about your ruggedized thermal management options and get started on your custom solution today.
What You Should Know
We recognize the need for reliability and dependable equipment when it comes to military function as well as aerospace technology, and we are ready to meet with your team and get started on your custom thermal solution. Whether you are looking for a reliable heat exchanger or simply need a consistent accessory, our team has you covered.
Learn More Today
Consistent function is key when it comes to military-grade equipment, and our team has a variety of solutions to help. Contact Noren Thermal Solutions in Taylor, TX by calling 512-595-5700 to speak with our team and get started today.