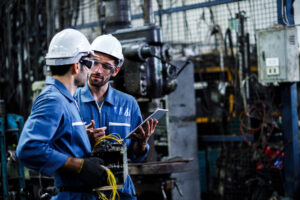 Finding a thermal solution for your industrial applications is much easier than it was before, as countless options exist as even more companies require them. Still, finding a solution that optimizes your operation is a completely different feat, and nothing will benefit your setup better than a customized product. But how exactly can a solution precisely meet your needs? In today's blog, the team at Noren Thermal Solutions in Taylor, TX will discuss our process for creating your custom thermal solution, including how in-house production and manufacturing makes for a higher-quality result.
Overseeing the Entire Process
It goes without saying that many companies utilize outsourcing to produce products at a cheaper cost to the manufacturers. Indeed, this process has been practiced for decades, and many thermal management companies rely heavily on it to produce a large number of solutions for a fraction of the price.
Though this may benefit the manufacturers, it is actually damaging to the consumer for a number of reasons. For example, outsourcing allows companies to hike up prices. Additionally, because there are multiple stages at which different companies with different standards intervene, this compromises the quality and integrity of the product.
At Noren, we have led thermal management innovation for over 50 years, all from our USA-based facilities. In other words, our completely in-house manufacturing allows us to provide better quality solutions that are better suited for your unique needs. What's more? We oversee the entire process from start to finish, meaning our teams work closely to ensure consistent quality throughout. To learn more about this process and how it makes for optimal heat exchangers, give our team a call today.
The Role of Collaborative Engineering
In order to provide our clients with solutions that will help them get the most from their equipment, we utilize a process known as collaborative engineering. Indeed, this setup allows our teams of thermal, mechanical, and electrical engineers to work closely with your team to ensure that your needs are not only met but optimized to your configuration as well.
Collaborative engineering allows our team to more realistically see the areas for potential growth within a project, and subsequently, make alterations necessary to optimize your overall operation. Give our team a call to learn more today.
Rapid Prototype Abilities
In addition to working closely together, our team has the capabilities to rapidly prototype concepts and designs to gain a better understanding of the feasibility and/or potential hurdles that might arise. What's more? This allows us to determine what needs to be changed or altered before manufacturing begins, thus saving you in terms of time and cost.
Learn More Today
Contact Noren Thermal Solutions in Taylor, TX by calling 512-595-5700 when you are ready to get started on your custom thermal management solution today.