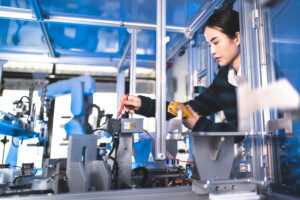 It goes without saying that ensuring your company is able to stay ahead of the curve means having a thorough and in-depth understanding of your own unique needs. This involves being conscious of your thermal budget, how the environment plays a role in the process, and of course, what your industrial applications need to function to their full capabilities. In today's blog, the team at Noren Thermal Solutions in Taylor, TX discusses the holistic approach we implement to create your custom thermal solution, as well as how collaborative engineering allows for higher-quality results.
Input from Various Areas
Though it might not be at the forefront of every worker's mind, it is important to have at least a baseline understanding of the need for thermal management with functioning electronics. Indeed, a person can overheat from consistent work and exposure to active situations, and the same can be said of your equipment. Further, technology often does not receive much rest in terms of ceasing function, and the more you are able to get out of your technological applications, the better off you will be.
Because your application is complex in and of itself, sometimes the input of various different areas is needed in order to optimize your overall operation. Fortunately, this is where our team is prepared to help.
Collaborative engineering is a process our team utilizes greatly, and it consists of receiving input from various areas of specialty in order to understand how the multiple components of a heat exchanger function in concurrence with one another. Further, it allows our team to ensure higher quality solutions. For more information about this process, contact a representative from our team today.
Considering Your Parameters
Not only does collaboration ensure higher quality results, but it allows our team to create a custom thermal solution that considers each of your unique parameters that may influence your device's overall productivity. Indeed, our team of engineers, manufacturers, and thermal management specialists take care to ensure each and every factor is accounted for. This process offers more than just a solution that works "well enough," and instead helps you get the most out of your application's capabilities. To learn more about this process, reach out to our team today.
The Role of Testing and Feasibility
The collaborative process would not be complete without steps designed to ensure your product performs as it should. Indeed, our team utilizes feasibility studies, 3D printing to create a rapid prototype, and more to ensure all is able to perform as intended so that, once you receive your product, you can rest assured knowing your application is optimized.
Learn More Today
Contact Noren Thermal Solutions in Taylor, TX by calling 512-595-5700 to speak with a representative from our team and learn more about the role of collaborative engineering and your products.