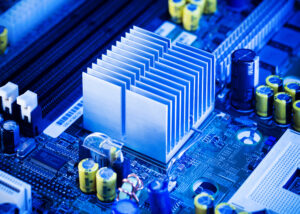 Ensuring your industrial application performs to its highest capabilities requires the input of several key actors, including engineers, manufacturers, and of course, you! Indeed, a one-size-fits-all approach can only take your operation so far, and for some, it may even be a detriment. As such, it is important to acquire all the knowledge necessary to optimize your thermal management capabilities, and understanding the methods used to achieve this high level of temperature regulation helps. In today's blog, the team at Noren Thermal Solutions in Taylor, TX takes a look at forced air cooling, and how our heat sink heat exchanger offers significant benefits.
What is Forced Cooling?
Just as there are many ways and opportunities to get from point A to point B, there are a variety of methods that can be utilized to help streamline your thermal management needs. For example, phase-change technology is excellent for operations that utilize heat pipes to remove waste heat from the source. Another example includes utilizing thermal dissipation to rid your equipment of excess energy so that it does not overheat.
The method or option best suited for you will depend largely on your unique needs and parameters, and no two companies contain the exact same ones! This is where our team comes in to help, as we will work closely with you to ensure you understand your options and how our team can help.
In terms of forced air cooling, there are a variety of options. Of course, there is the traditional fan, but getting the most from your equipment may require something a bit more thorough. You see, forced air cooling utilizes resources to reach areas of your equipment that were previously inaccessible. For more information about this process, reach out to our team today.
Heat Sink Thermal Management
One of our more popular forced air-cooling options is the heat sink. Indeed, this solution touts a higher rate of thermal transfer than many competitor brands, and the reason for this is due to its unique use of copper as opposed to aluminum. You see, copper spreads heat quickly and rapidly throughout the perpendicular fins that jut out from the base, allowing a much faster rate of heat spreading and then dissipating into the surrounding air. Contact our team to learn more.
Optimizing Your Capabilities
It goes without saying that in order to stay ahead of the curve and continue to be a key player in your competitive market, you require a thermal management solution that can help optimize your capabilities. With our copper-finned heat sink, you can experience a much higher rate of thermal transfer, resulting in more consistent internal temperature regulation.
Learn More Today
Contact Noren Thermal Solutions in Taylor, TX by calling 512-595-5700 to learn more about our heat sink options, and speak to a representative from our team today.