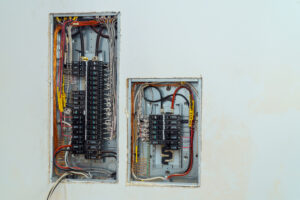 Technological advancement has made it possible to perform various tasks at an exponentially faster rate than was previously possible. Due to these advantages, most – if not all – companies took strides to upgrade their equipment and capabilities. From wastewater treatment to power management and virtually every industry in-between, industrial applications have proven a significant improvement. In today's blog, the team at Noren Thermal Solutions in Taylor, TX explains the importance of maintaining internal temperatures within your applications, and how we can help protect sensitive electronics consistently.
Understanding Electrical Enclosures
It goes without saying that many companies would not even begin to recover if they no longer could use the industrial-grade applications that make their processes simple. Indeed, technological advancement has led to a shift in what is defined as productivity and profit, and taking a step back would significantly impact various industries, as you might expect. Because of this, it is even more important now that steps are taken to prioritize your equipment's function.
Whether you are aware of it or not, your technological applications are actually influenced by various conditions, environments, and more, which means these factors must be considered in terms of long-term function. In other words, your working environment and parameters surrounding your needs play a major role in the proper function of or breakdown of your equipment.
Although each application is created differently – meaning variations in need, environment, etc. are considered – all share the same detriment of the potential for overheating. Fortunately, this is exactly where a custom thermal solution can help. To learn more about this process and how our team can help you get started, give us a call today.
Protecting Sensitive Wires
Although not every application is created with the same goals and purposes in mind, many follow a similar design in terms of protecting the sensitive wires and electronics that make them function. In fact, many devices store all of these sensitive components in a central electrical enclosure to ensure proper protection.
Keep in mind, however, that electrical panels also run the risk of overheating, and as such, should be accompanied by a thermal solution to ensure consistent function and protection. Give our team a call today to learn about your options for electrical panel enclosure cooling.
Consistency and Dependability
When it comes to your operation, consistent function is a must. While consistent use of applications will undoubtedly lead to system failure or breakdown, investing in a high quality, low-cost heat exchanger can truly help you extend your use and get the most from your equipment.
Learn More Today
To learn more about the need for consistent electrical panel enclosure cooling, contact Noren Thermal Solutions in Taylor, TX by calling 512-595-5700 and speak to a representative from our team today to learn about your options.