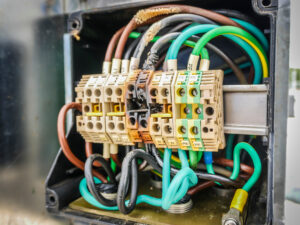 Heat pipe thermal management utilizes phase-change cooling, an eco-friendly process that uses a fluid's latent point of vaporization to transfer waste heat away from the source. Like heat pipes, other thermal management solutions can approach the process with different methods to provide a range of different results, depending on your physical environment, needs, and unique parameters. Unlike most manufacturers, however, our team places an equal emphasis on sustainable solutions and optimization. In today's blog, the team at Noren Thermal Solutions in Taylor, TX explores the process of cooling applications through use of electrical junctions, and how this practice is sustainable for consistent function.
Utilizing Heat Transfer
When it comes to maintaining best functional practices, you cannot begin to thrive without understanding the detrimental impacts of industrial overheating. You see, just as a human may become fatigued or exhausted after sprinting a long distance, your industrial applications can fatigue as well. What's more? Heat energy is generated within the application as it continues to exert energy through consistent function. Without a method for release, the internal temperatures of an application will only continue to climb, eventually reaching dangerous levels.
In order to maintain consistent function and prevent overheating concerns, you can utilize a heat exchanger. A thermal solution such as a heat exchanger is designed to use special methods that remove waste heat through the spreading, movement, or transferring of waste energy.
Though fans and compressed air coolers may come to mind as a simple solution for the problem, the truth of the matter is that there are a handful of other considerations that must be taken into account. In other words, one-size-fits-all solutions can get the job done, but only custom options can optimize your capabilities. Fortunately, this is where thermoelectric cooling comes in to play. For more information about this, give our team a call.
Maintaining Consistent Function
It goes without saying that, as a company at the top of your industry, your business should be operating at optimal function. Unfortunately, this is not always the case with your industrial applications.
When our team meets with yours, we take care to truly understand your unique needs and parameters, and provide feedback on the best methods for your particular needs. This can include the use of thermoelectric junctions to consistently pass heat back and forth, thus regulating internal temps.
Learn About Your Options
Thermoelectric cooling and heating creates a temperature difference by moving waste heat between two junctions. Additionally, we offer other sustainable and eco-friendly methods that may be better suited for your needs. These include phase-change options, plastic mold cooling, and the use of passive or active means.
Speak with Our Team
Contact Noren Thermal Solutions in Taylor, TX by calling 512-595-5700 to schedule your call with a representative from our team, and learn about the different thermal management methods we can use to create your thermal solution.