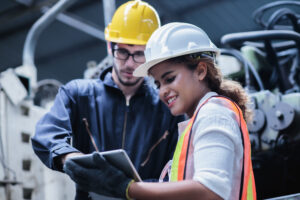 Your industrial applications are essential to your business' operation, and enduring even so much as a minor instance of overheating can end up setting you back significantly. Indeed, timely completion of tasks is another factor to keep in mind when attempting to maintain a position among the competition, and enduring particularly difficult environments plays a factor as well. Though keeping all of this information in mind may seem a bit daunting, having a team of experienced professionals on your side helps. In today's blog, the team at Noren Thermal Solutions in Taylor, TX looks at the way collaborative engineering can promote greater quality and how our team helps.
How We Start the Process
Helping you get the most from your technological applications is one of the many benefits of working with our team. In fact, our primary goal is to help you achieve greater levels of productivity, shorter cycle times, and/or ensure consistent application function without costing you significant energy use or funds.
In order to get the most from your devices, however, it takes a thorough understanding of not only your unique needs, but the parameters surrounding them and the environment you operate in as well. This is where our team comes in to help, as we have over forty years of dedication to sustainable thermal management practices to help guide your process.
Unlike other manufacturers, we do not tout the one-size-fits-all options, as there is no way to optimize your capabilities if a device is designed to "meet everyone's needs." Instead, we meet with you to discuss your overall goals, parameters, budget, and more so that you receive nothing short of an ideal solution. To learn more about this process and how our team can help, give us a call today.
Ensuring Each Component Functions As Intended
It is not enough to simply offer solutions in sustainable thermal management, as there are more components that contribute to how effective a solution may be. As such, we implement a process known as collaborative engineering in which our thermal management specialists, engineers, and manufacturers all work together for optimal precision. In other words, this process allows our team to provide better quality solutions that are designed to meet your needs precisely. Contact a representative from our team to learn more today.
Better Quality Solutions Overall
At the end of the day, we believe that simply getting your applications to function well enough is not good enough for our clients, and we take the time to truly get to know your needs, parameters, and environment so that your devices can function at capacity.
Speak With Our Team
To learn more about the role of collaborative engineering in the heat exchanger design and manufacturing process, contact Noren Thermal Solutions in Taylor, TX by calling 512-595-5700 to speak to a representative from our team and get started today.