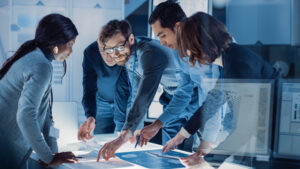 In our most recent blog post, we discussed the benefits of in-house manufacturing and what makes it ideal. Indeed, having a trained team oversee the entire process can help alleviate stress regarding complications or other issues that can arise. It also allows our team to partake in collaborative engineering, a process that utilizes engineers in different stages of the design and manufacturing process to ensure quality results throughout. In today's blog, the team at  Noren Thermal Solutions in Taylor, TX takes a look at our collaborative engineering process and explains how we help provide optimal solutions that meet your needs.
What is Collaborative Engineering?
Industry and success in the Americas are fueled by competition and high-quality products that help streamline your processes. Indeed, technological advancement has made it possible to achieve a greater level of productivity, and fields that utilize such devices are often bounds and leaps ahead of those that do not. Still, simply utilizing advanced technology to manage your processes is not enough, as even the most advanced of machines require specific needs to be met and require specialized maintenance.
Too often we fall into the trap of purchasing the newest item on the market to optimize industry needs, just for said devices to overheat and cause application complications. To address this issue, it is in your best interest to consider your options for thermal management.
Simply settling for a standard one-size-fits-all heat exchanger is not enough, however, as your needs cannot possibly be met without considering your parameters first. Through our design and analysis phase, our team of collaborative engineers will work with you every step of the way to ensure the end result is a solution designed to optimize your capabilities. Contact our team to learn more.
Getting the Most from Designs
In order to bring your capabilities to the next level, our team works closely with you to gain a thorough understanding of your needs as well as identify primary goals you are looking to achieve. By utilizing engineers throughout the different phases of the process, we are able to ensure a higher quality overall.
In addition to higher-quality solutions, collaborative engineering allows us to run computational fluid dynamics analyses to test solutions through the recreation of the application's environment within the confines of our very own lab. To learn more about this process, give our team a call today.
Other Ways Our Team Helps
Collaborative engineering is a process that encompasses several different steps. Not only do we receive input from different areas of expertise, but we put ideas to the test through feasibility studies and product testing earlier in the process so as to offer the most in terms of cost savings.
Learn More Today
Contact Noren Thermal Solutions in Taylor, TX by calling 512-595-5700 to speak to a representative from our team and learn more about your heat exchanger options through our collaborative engineering design.