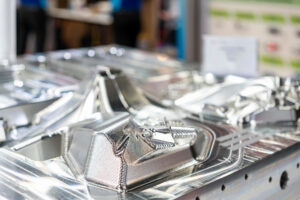 In our most recent blog post, our team discussed the different instances that could benefit from thermoelectric thermal management, as well as how thermoelectric cooling provides effective cooling capabilities for a wide range of applications. Indeed, getting the most from your technological applications is a top priority, and failing to consider the possibility of overheating will only complicate this process. In today's blog, the team at Noren Thermal Solutions in Taylor, TX explains what it means to utilize solutions for high-performance material processing and how our team can help you.
Taking a Look at Plastic Mold Cooling
There are a variety of fields and industries out there that may utilize plastic mold cooling to accomplish a host of tasks. From creating bottles for food and beverage to creating large-scale containers to hold water and other substances, the needs of material processing can vary. Indeed, being able to service your technological applications appropriately depends largely on the goals of use, and our team is ready to help you optimize your capabilities.
For the purposes of this blog, it is important to define material processing. Material processing is considered to be a series of operations that aim to transform industrial materials from their raw resource state to a finished product. Working with plastic specifically, the outcomes are limitless.
Whether you are aware of it or not, there are several different methods that can be used to create different plastic products. As we mentioned previously, the process of creating a large plastic bin is much different than creating a plastic water bottle, and as such, your thermal solution should consider your needs. To learn more about this process and how our team can help, give us a call today.
Functions of a Thermal Pin
To address the needs of various fields, our team will work with you to determine which thermal pin heat exchanger solution is ideal for your needs. A thermal pin is essentially a high-temperature heat pipe that can be used in a variety of plastic molding equipment. From injection and blow molding to extrusion and rotational molding, a custom thermal pin is an ideal solution to help optimize your capabilities. Contact our team to learn more today.
Solutions for Molds of All Types
Plastic mold cooling can take a few different forms. You can cool areas previously inaccessible to water cooling in small cores with injection molding, transfer heat from rotational and rubber molds using rotational molding, utilize blow molding to create a number of products, or even eliminate hot spots that can be found in extrusion molding.
Give Our Team a Call
Contact Noren Thermal Solutions in Taylor, TX by calling 512-595-5700 to learn more about the different ways thermal pin heat exchangers can address your plastic mold cooling needs, and speak with a representative from our team to get started on yours today.