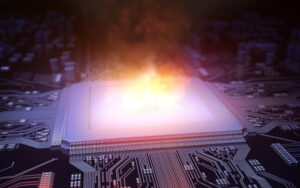 The protection of your electronics systems is invaluable to the success of your enterprise. Excessive temperatures on your circuitry can cause system failure and lead to momentary pauses in production. This can stop you from creating the output you need to be successful. Heat can also cause the destruction of your equipment and repairs can become costly in a hurry. You could be wasting money on parts alone, before you factor in labor and loss of productivity.
Take the time to find an efficient heat management system from Noren Thermal Solutions in Taylor, TX. A custom plan for your electronics is vital to the lasting future of your endeavor. Our copper heat sinks bring additional efficiency to keep your circuitry safe and consistently operational. Protect your electrical enclosures as well with custom air-to-air heat exchange to keep your wiring intact. The proper resources can save you a headache down the line!
Consistent Output From Computerized Tech With Efficient Heat Sinks
For your circuitry, heat can be highly harmful to its lasting ability to operate. High temperatures can cause system failure and with an inefficient thermal management system, you could experience this time and time again. One of the methods of heat transfer for circuitry is known as a heat sink. This device contains many folds in order to maximize the surface area, which aids in the diffusion process. More surface area allows for more rapid transfer of thermal energy to surrounding air.
Make the smart decision from the start with copper heat sinks. This material is much more conductive than traditional aluminum and so it can keep you operational even in times of stress. A custom heat sink system from Noren could help you to feel confident in your ability to protect your vulnerable electronics.
Ensure Airflow Around Your Electrical Enclosures
Your circuitry is not the only area in which elevated temperatures can do damage. Your electrical enclosures can become ovens without proper airflow and destroy your wiring. The repair of your enclosures can become costly quickly, as both parts and labor can keep recurring without an efficient system. An effective air-to-air heat exchange system could help you to maximize your productivity and stop throwing money away. Take advantage of the science of thermodynamics!
Keeping Your Electronics Cool With Noren
Copper heat sinks give you the edge over your competition with increased conductivity. This gives you greater control over the temperatures of your vulnerable computer components. Electrical enclosures require adequate airflow to reroute heat from wiring and soldering. Discover the advantages of thermal efficiency with products from Noren Thermal Solutions in Taylor, TX. Call us at (512)595-5700 to speak with a member of our team and discuss your options in protecting your vital electronics systems.