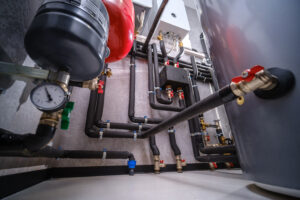 If you own or operate your own business, you are always looking for areas to become more efficient. When it comes to managing the waste heat that your equipment produces, traditional air conditioning can lead to skyrocketing energy bills when temperatures rise. By understanding how phase change technologies work, you can manage these temperatures with passive methods that do not require additional energy inputs. When you work with a consultant from our team, we can help design a set of heat pipes that transfer energy to a safer location. This system relies on a liquid placed inside a pipe near your equipment. As heat is absorbed into the liquid, it turns into a gas, traveling away from the source. When the gas cools, it drains down the pipe, ready to begin the process once again. For your added benefit, heat pipes benefit your environmental imprint by containing no toxic chemicals or other harmful materials.
At Noren Thermal Solutions, we have over half a century of experience helping businesses like yours address their cooling concerns. While managing heat waste may not be your area of expertise, we have made it ours so you can get back to doing what you do best. We offer the ability to design a system from the ground up or consult with you to find areas for improvement in your existing system. This prevents the need to react to dangerous overheating situations or other events that cause hazards due to the inability to control your temperatures.
Transferring Heat Waste Away From Sensitive Equipment With The Aid Of Heat Pipes
We can help you reduce your energy bills with the aid of a two-phase cooling technology called heat pipes. This system helps you transform your thermal management system from an active heat exchanger to a more passive system that creates a "closed loop". While the cost to cool your equipment rises as your heat output rises with traditional air conditioning, a heat pipe fits the needs of your company without scaling its energy requirements.
Keeping The Safety Of Your Team A Top Priority
When installing an electrical enclosure to protect important circuitry, wiring, or other computer equipment, you must account for the heat that the equipment generates. While leaving your enclosures open allows heat waste to dissipate naturally throughout a room, an open door leaves your application at risk for water damage or infestation by animals. That is why we offer drop-in and flush-mount cooling systems that attach to any number of enclosure designs. Enjoy moving temperature away from your electronics without putting them at risk from environmental hazards.
Speak With Our Team About Implementing Phase Change Technology
Our heat pipe and ambient cooling systems can help you manage your temperatures more efficiently compared to traditional air-conditioning. Give us a call at Noren Thermal Solutions by dialing (512)595-5700 and speak to a team member about scheduling a consult.